CSR 4.0 Bluetooth Problems
I have an older Lenovo Thinkpad W520 notebook computer running Windows 10 Professional that, for the most part, has been an ultra-reliable workhorse. When it was new from the factory, I installed a Samsung 500Gb SSD to eliminate the weakest link, a Western Digital mechanical hard drive. Life was good until about two years ago when I decided I wanted to regularly pair my Amazon Tap, Sharkk Boombox, and a pair of Jabra Bluetooth earbuds to the system.
Unfortunately, the Bluetooth 3.0 on the Thinkpad was flaky. Devices would stop working, and I would need to remove them from the system and add them again along with several other tap dances to keep things working. Until a few days ago, I lived with this problem because it was not a big deal. I recently had a renewed interest in Lynda.com training courses, so I bought an awesome set of Hiearcool L-1 Bluetooth Headphones. I had to solve this problem once and for all.
Frustrated, I headed to Amazon and set out to find a new Bluetooth 4.0 USB dongle.
Cambridge Silicon Radio CSR 4.0 USB Bluetooth Dongle
My research on Amazon showed me that there were many USB Bluetooth 4.0 Dongles to choose from, and many seemed to be re-branded CSR 4.0, so I bought the one that was actually branded CSR 4.0 for about $12, and in two days, Amazon prime had it in my hands.
Installing the CSR 4.0 USB Bluetooth Dongle
Being a Windows 10 computer, the Bluetooth adapter should have been plug and play, but unfortunately, that was not the case. A quick check-in Windows 10 device manager showed me the CSR 4.0 was installed, but there was an error message. Here we go, a simple task is now a project.
My initial thought was that maybe there was a driver needed after all, but my research told me that the CSR 4 USB Bluetooth adapter does not require any driver other than what is included with the Windows 10 operating system.
My second thought was there was another device interfering with the installation, so I removed my iPhone, Sharkk Boombox, and Amazon Tap. Then in Windows Device Manager, I selected "Show Hidden Devices" and removed any additional Bluetooth devices that are no longer being used. Once that was done, I rebooted the computer and reinstalled the CSR Bluetooth adapter. The installation failed again. That was when the answer hit me.
(Solved) CSR 4.0 USB Adapter Won't Install
The solution is simple. Windows 10 can't operate two Bluetooth radios at the same time. The Lenovo notebook's internal Bluetooth radio needs to be disabled to use the CSR 4 and probably any other USB Bluetooth Adapter.
Update: Hamish Blackall commented the following "USB 3 ports are not recommended" That is worth noting.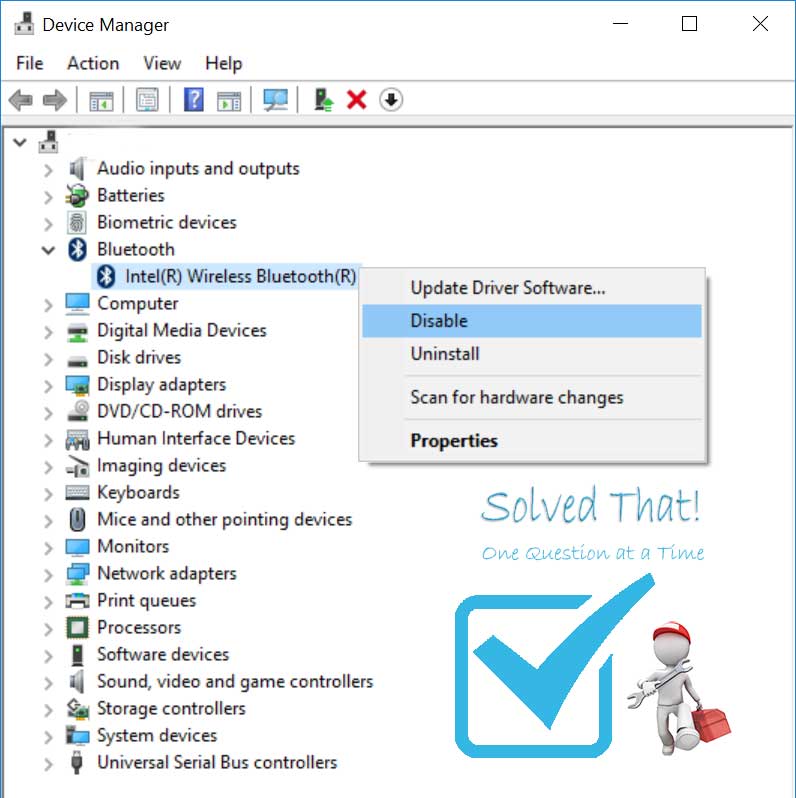 CSR 4.0 USB Bluetooth Installation Guide
In the Windows Search box at the bottom of the screen type "Device Manager" and select the Device Manager from the results

Expand the Bluetooth section

Right-click your existing Bluetooth radio and select "Disable device" from the available choices

Insert the CSR 4 or any other USB Bluetooth Adapter into an available USB or USB 2.0 port (USB 3 ports are not recommended)