Time Saving Tools That Make Life Easier
PREFACE
This website is one of my more interesting websites, not that it's anything special, I know it's not, but what makes it interesting in my opinion is that the content is driven by what is going on in my life at the time. I mean how many other websites do you know of that go from solving Samsung tv problems, Bluetooth problems, Stihl M55 cultivator problems to reviews on bed sheets or urinary tract infections in cats? I think visitors to this site probably have lives that are just as complicated.
I have probably mentioned elsewhere that my life has also been a path to learn many skills. I am the Director of IT, Technical Maintenance Manager at a small manufacturing company of about 50 employees. The IT Director position combined with 30 years of computer experience has provided me with a tremendous amount of computer skills, especially on the troubleshooting end of things. i remember when computers were not reliable and Windows crashed all the time.
The Technical Maintenance Manager position is a position that I have been doing for nearly 30 years. In that position I have designed and built industry specific machines that use cool hardware like servo motors, programmable logic controllers, HMI's (touch screen computers), AC drives, DC drives, pneumatics, hydraulics etc. More importantly to this site I also manage and perform building and machinery maintenance. i have some education to back all this up. I have taken the electrical apprentice program to be an electrician. I did all the studies but not the physical apprenticeship with an electrician. i have also spent countless hours working with very smart people, mentors who have also improved on my skillset.
For 20 years I was also the Property Manager for an 80 plus year old apartment building in New Haven, Connecticut. As a side business i own, operate and maintain about a dozen websites, like this one. It's safe to say I'm pretty well rounded. 
PUT A DOLLAR VALUE ON YOUR TIME
All those skills mentioned above have been helpful throughout my life. I am able to do many thing properly myself without the need to hire a professional and just as important I have learned to value my time. Years ago I was squeezing in side jobs like building decks, bathroom remodels, tile work, electrical work etc. Often times I took jobs that homeowners could not afford to pay a professional and I'm not going to lie,many of those jobs were bad jobs to take because I was usually cleaning up a problem created by someone else. I no longer do any sort of carpentry or remodeling side jobs I don't have the time. my day job keeps me busy, I come home eat dinner and work on my websites. I squeeze in some hiking and mountain biking and work on my house. As I mentioned above I have learned to value my time not just because we only have so much time on this planet and we need to enjoy life but I have also learned to put a dollar value on my free time, and by free time I mean every minute that is outside my 8-5 daily grind.
The reasons I a put a dollar value on my time are simple. If I decide to do a side obviously it makes it easy to charge for the work. But I have learned too that there's also time involved like research, shopping, preparation etc that need to be included. I want to get paid for EVERY SECOND I WORK. Too often customers can waste my time. When they know the clock starts ticking right away and it's costing them money they tend to stay out of the way. Maybe someday I will write about my side jobs from hell.
I also like to put a value on my own work around the house because if I'm working on homeowner duties I'm not working side jobs or worse, not working on my websites that are so critical to my income. Remember TIME IS MONEY. I find thrifty folks often have no value of their time and will spend countless hours struggling to do a job that they should have either hired a professional or at least bought the right tools to make their lives easier. Remember we are only on earth for a limited amount of time and you should spend as much time as you can enjoying life and not killing yourself to save a buck.
TIME SAVING TOOLS
Finally the subject of this page "TIME SAVING TOOLS". In my opinion if I can spend some money on a tool that saves me time and energy I want to know about it. Last week I wrote about using the "GB Cable Boss Romex Stapler". In an hour I stapled more romex than I was able to do in 3 hours with any other method. That stapler was under $30. Another are I see is the quality of tools. In fact I think having inadequate tools is worse than having no tools. typically you get what you pay for in any tool. Cheap cordless tools are junk even for homeowners with infrequent use. You will never go wrong with a Bosch, Dewalt or Makita. There is a reason you only see these brands in the hands of contractors. Even more simple tools like drill bits, saw blades, tape measures, clamps, taps & dies, router bits and even hammers you get what you pay for. Buy an Estewing hammer and your grandchildren's kids will use it one day. 
Good quality tools save time and money in the long run. Buy once and buy right that should be obvious. Beyond that though is true time saving tools. These are the tools where someone thought to themselves "This job sucks how can I make it easier?" These tools are very specialized. Tasks like pulling wires, leveling, finding studs, cutting concrete, cutting drywall, wiring, plumbing etc can often me made easier with modern time saving tools but the job also comes out better in a shorter amount of time. That is what this page is about.
Read this page if you want learn how to achieve time saving professional results in your home improvement projects or home maintenance tasks with the added benefit of getting more of your personal free time back. I would much rather be mountain biking, hiking, walking my dog or fishing than crawling around in my hot attic in July.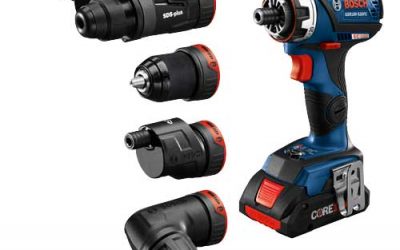 The Bosch 18V Flexi click 5-In-1 Drill/Driver System is designed for professionals looking for a high-torque connected-ready drill/driver that redefines their limits to get the tough jobs done. The drill can produce up to 535 In. -Lbs. Of torque. Users may also add an optional rotary hammer adapter (not included), converting the drill into an SDS-plus rotary hammer for drilling into masonry. The tool has a 1/4 In. Hex bit holder with quick release, and the system includes three pro-grade attachments: a right-angle, an offset-angle, and a 1/2 In. Keyless metal chuck attachment. The kit includes a CORE18V 4. 0 Ah Compact Battery with next-gen Li-ion 21700 cell technology and an 18V charger. The drill features Bluetooth connectivity, which uses an optional Bosch Connected Tool Module to connect the tool to the free Bosch Toolbox app on a connected device, to customize settings and provide detailed feedback. The drill has Kickback Control, a precision clutch, and an efficient EC Brushless motor.